Customer Service: It's Kinda A BIG Deal!
by Casey Woods, Executive Director | November 15, 2022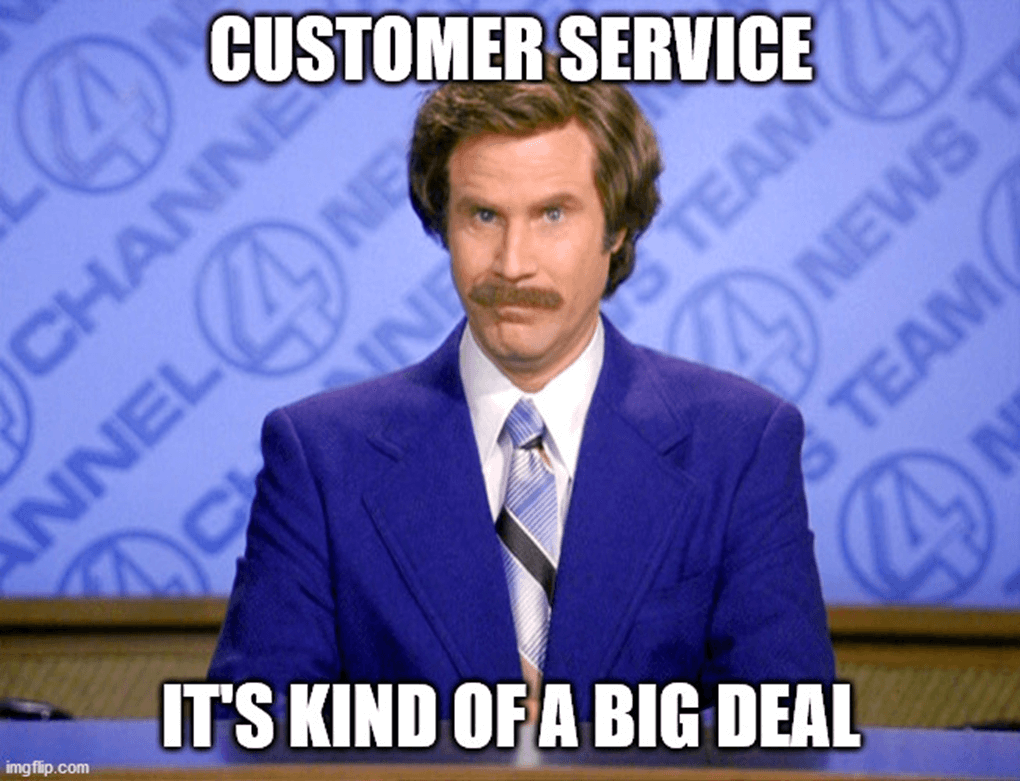 Some reminders as we approach peak holiday shopping season.
The defining characteristic for small businesses is often service. I know that may seem unfair as large retail operations force self checkout and avoid human interaction at all costs, but your businesses' ability to form a connection through great service to your customers creates loyalty, generates sales, and fosters "word of mouth" advertising. The strategies behind your customer service plan are a critical component to your business success, and there are a few areas that you need to focus on to improve your service this season:
Customer service begins with expectations set before your customer ever reaches your front door.- Consumers set expectations about a business based on previous experiences with a business category, your external advertising, and word of mouth. If your business doesn't meet basic expectations that fit customer perception, you can start off in a negative position that is hard to correct. Make sure you generate external information about what your business does, how you are unique in your industry, and what customer service means to you. Working with traditional media outlets, shooting short videos for social media, conducting product/service photos for distribution through posters, and consistency in messaging with your clientele can help set positive expectations for service before your customer arrives at the door.
The public takes sensory cues from your building exterior and your business interior immediately adjacent to your front door.- If your storefront is covered in junk, your interior is a mess, the inside of your business is dead silent, or the first sensory experience someone has when they walk in is "what's that awful smell?" you will have a negative customer service perception. Positive stimulation of senses will vary from business to business (a doctor's office may want an antiseptic "clean" smell, whereas a bakery needs to smell like baked goods). Your first impression generally isn't formed by human interaction, and designing a great experience starts with understanding your consumer's sensory perceptions of your business.
Quality training and expectations lead to better service.- In today's short staffed businesses, setting aside time and manpower for training can be difficult. Understand that quality customer service just doesn't happen naturally; it is a product of employee training programs. Employees that are trained to provide exceptional customer service generally have better customer interactions, and that helps retain and attract more quality employees. Generating solid "onboarding" materials, mentor programs, role play, and set follow up training opportunities is a critical component to successful customer service.
Your greeting matters.- Anyone that has ever helped a customer with a "How can I help you?" has probably been on the receiving end of an "I'm just looking!" You have to teach methods to extract information to allow for better customer service. If I worked in sporting goods, I might ask "what's your favorite team/sport?". If I worked in a restaurant, I might ask "have you ever tried (insert unique menu item)?" If I worked in a pet store, I may ask "what kind of pet(s) do you have/what's their name?" Finding ways to connect beyond the "I'm just looking" statement can allow you to actually help customers find things that they want and need while providing a better customer experience.
Empower your employees to engage "above and beyond" moments.- Challenge your employees to find ways every day to go above and beyond for customers. Let them make basic customer service decisions that enhance customer experiences. If you let your employees know that they have the authority to generate awesome experiences for the folks that walk in your front door, they will look for opportunities to excel.
The customer is the priority; the customer is the priority; the customer is the priority…- In short staffed environments, freight, displays, the daily work list, and a thousand other things are hovering over your staff. You need to lead by example and show your staff that the customer is the priority. The other "stuff" will be there later, but your customer might not.
Empathy and the "big picture" are a huge part of customer service.- Customers might have a million things going on in their lives that impact their mood and reactions; being empathetic to others can help everyone improve the day. Part of empathy is determining what is a "big deal" and what isn't. Giving on the small stuff, and empowering your staff to do the same, in an effort to avoid negative interactions is often the best long term play. You can't give away the store, and customer abuse shouldn't be tolerated, but flexibility in customer interactions can often make operations smoother for everyone.
Imparting knowledge is part of the process.- I'm always reminded of the scene in "Parks and Rec" where Ron Swanson is approached by a young staff member in a lumberyard, and before the staff member can utter a word he's dismissed with an "I know more than you." Part of training is ensuring that your staff has some detailed knowledge about the product or service that they are offering. Imparting that knowledge as part of the sales process can help build credibility and value, which often enhances customer service.
How are you following up?- In the world of sales the old adage is "sell them what you are going to sell them, sell them, and then sell them what you sold them." Part of the customer service experience is follow up. Providing perks to your best customers, and encouraging them to refer more customers like them, is a simple way to capitalize on your customer service efforts. Spend some extra effort on collecting customer information, and generate planned activities to celebrate customer loyalty.
Recognition of great service inspires more great service.- When you have examples of exceptional customer service, you need a way to record and share the experience. Internally, shared experiences, recognition, and employee rewards can encourage more great service. When done appropriately, exterior sharing can emphasize the quality of your employees, the value your business places on service, and helps set external positive expectations by the consuming public.
Big boxes can afford to have disappearing associates, self checkout stations, and a lack of service. Customer service is the lifeblood of small businesses. Generating positive relationships with your customers in an engaging atmosphere is what often gives you a competitive advantage. As we get deeper into the holiday season, make sure you are emphasizing service as a holiday sales strategy, and maintain that commitment all year long.