A potential redesign of one of downtown's largest parking lots requires your input!

by Jessica Buchholz, Events Coordinator | September 16, 2021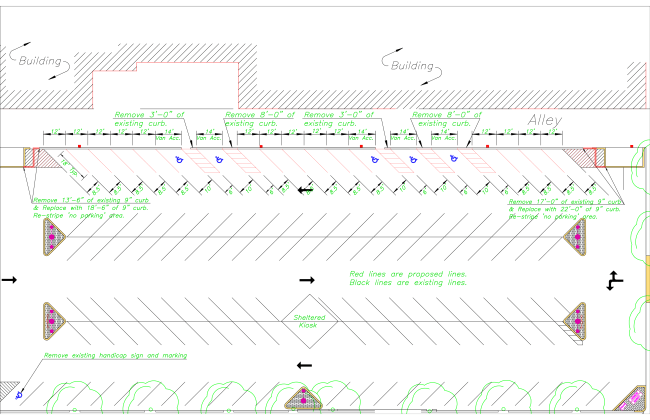 With limited resources, the City of Emporia continues to invest in improving accessibility in the commercial corridors of the community. Public Works Director Dean Grant submitted a potential redesign of the large commercial parking lot located in the 700 Block of Merchant Street. The design keeps the same approximate number of parking stalls, but expands the number of handicapped parking stalls and curb passthroughs available for local citizens.
Before any action is taken on the redesign efforts, we want to gain public input from all the businesses that utilize the aforementioned lot for employee and customer parking. You are welcome to view the proposed lot enhancements below, or you can CLICK HERE for PDF file of proposed enhancements.
Emporia Main Street will hand out physical maps of the proposed lot redesign to businesses and organizations in the immediate are of the 700 Merchant parking lot, and you are welcome to contact us directly with instructions associated with the physical map handout. If you have any commentary that you would like to provide electronically, please CLICK HERE for direct email access. Your input will be forwarded to Public Works and the Emporia Traffic Safety Committee