Veterans Banner Applications Now OPEN

by Jessica Buchholz, Events Coordinator | April 25, 2022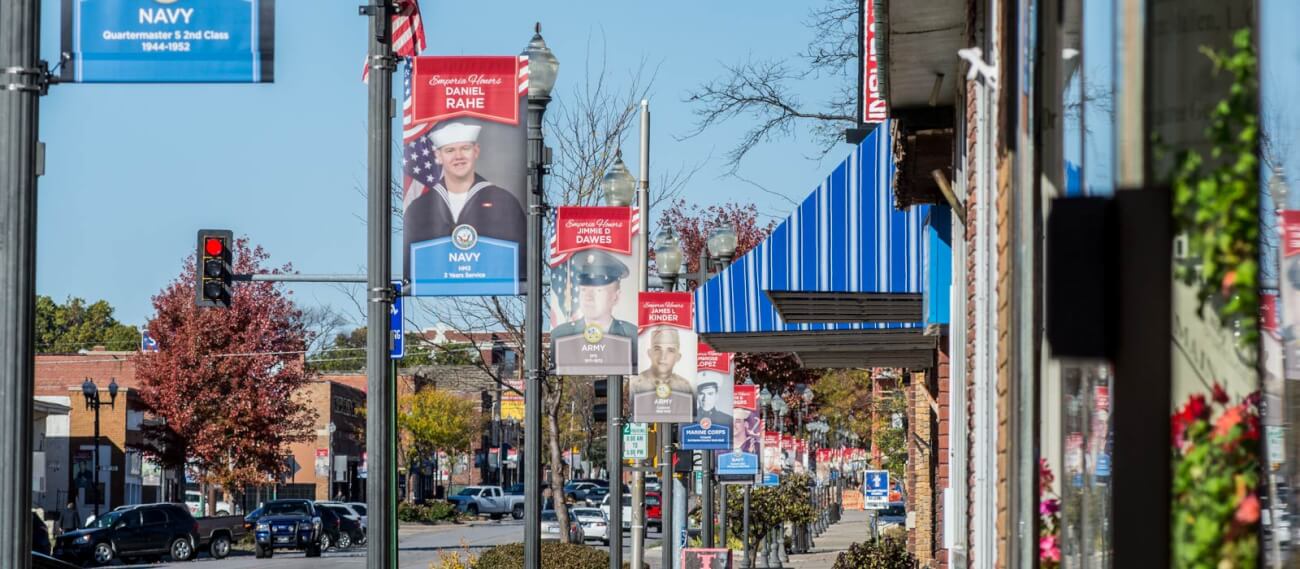 Emporia, KS –As calendars start to fill up with spring activities, Emporia Main Street likes to remind the community that now is the time to submit applications for the Veterans Banner program. The 2022 lottery will be held on Friday, July 1st at 10 am in the Emporia Main Street office. During the lottery, staff draw for open spaces by placing all the applications into a spinning drum and draw entries until the open spots are filled. The drawing will also be broadcast live on the Emporia Main Street Facebook page.

Once a spot is secured, Veterans Banners are displayed for approximately one month surrounding Veterans Day for four years. After the four-year terms is completed, the Banner is retired. Existing sponsors are given the first right of refusal to renew their spot or retire from the program.

Due to the overwhelming response for the program, organizers moved to a lottery-based system in 2018 to fill open locations. To apply for a banner, applicants can complete an online form at emporiamainstreet.com or pick up a physical form at the Emporia Main Street Office, 727 Commercial Street. Applications from previous years are put on file and reentered into the drawing each year if not selected.

Now in it's eighth year, the Veterans Banner program hosts over 260 banners locally. Banners are hung at Emporia State University and displayed down Commercial Street to the All Veterans Memorial.

"The Veterans Banner Program gives the Emporia Community the opportunity to say Thank You to those that have and continue to serve our county," said Jessica Buchholz, Community Development Coordinator for Emporia Main Street. "Each year, we look forward to welcoming new Veterans and their families into the program."
For more information on the program, please contact Emporia Main Street at 620-340-6430 or via email at [email protected]