Highlighting our local art history through the quilt block project!

by Jessica Buchholz, Events Coordinator | October 15, 2021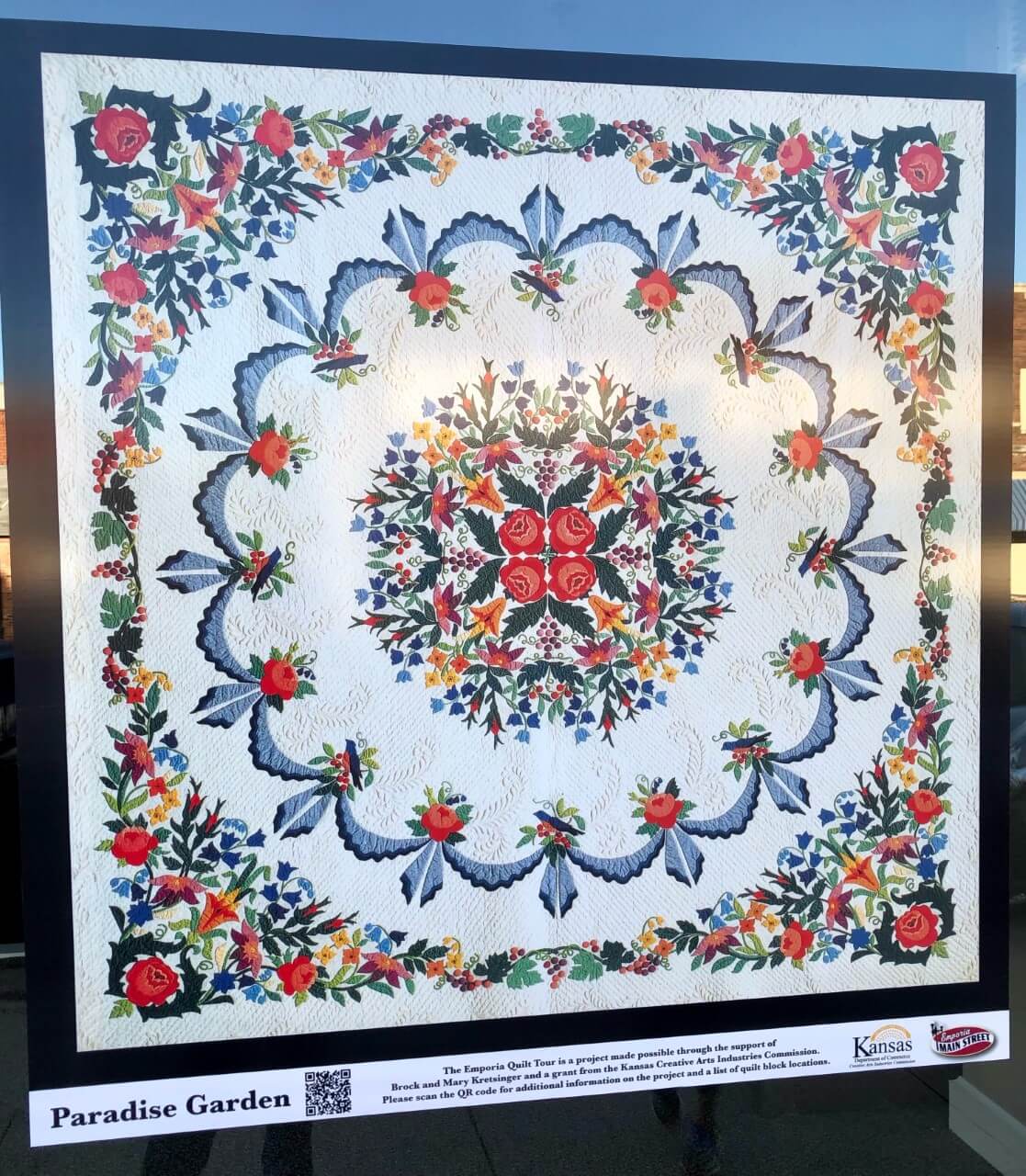 The East-Central Region of Kansas has a rich and diverse history that informs our present. Emporia Main Street works with partner agencies and volunteers to enhance cultural celebrations, create athletic opportunities that highlight our natural beauty, preserve our historic architecture, and highlight the unique assets in our area. The founding of Veteran's Day in the area was one of the inspirations for the Veterans Banner project. Our vibrant Latino population was the inspiration for events through the Hispanics of Today and Tomorrow that Emporia Main Street supports (like the upcoming Dia de los Muertos highlighted in the latest issue of Kansas! Magazine). Fans of gravel road cycling and disc golf have the opportunity to experience the beautiful Flint Hills. What about other unique history in the area?
When Emporia Main Street worked with the Kansas Arts Commission and Coffelt Sign Company to create the first round of interactive murals, several community members asked us how we could use the technology to highlight other elements of the region. One of those community members was Mary Kretsinger, and Mary talked to us about artisans that had a tremendous impact through innovative quilting designs. These designs are currently showcased in museums throughout the world and immortalized in Rose Kretsinger's book "The Romance of the Patchwork Quilt".
Much like our process with Veterans Banners, staff and volunteers sat down to discuss how we could use modern technology to highlight the past in a way that could engage local citizens and visitors. We researched other communities that had "barn quilts" as a tourist attraction that encouraged drivers to interact with various areas, and speculated that we may be able to appeal to a similar audience while highlighting artwork that was generated locally. A year later, we now have several designs that were made famous by local artists distributed throughout the community.
Our plan is to market the finished works and locations as part of a "tour", and work with our partners at the Lyon County History Center to highlight their local collection and promote additional events to draw in visitors. Part of the process is a web page (CLICK HERE) that highlights locations, designs, and history of featured quilt blocks. These artisan works can appeal to a niche market known to travel for "day trips" and may influence traffic to area businesses and sites adjacent to quilt locations.
Emporia sits in the middle of the population center of Kansas. We understand that in order to appeal to in-bound travelers and to encourage local entrepreneurs we must offer things that people are passionate about. Some of our yearly work focuses on supporting niche sports that are huge in the area to encourage traffic. Kansas Magazine recently focused on cultural celebrations that encourage traffic. A month ago, we had people from several states that visited the Great American Market. In a few weeks, children will line the streets for Trick or Treat. We can't just hit one market and hope to remain successful as a destination. The Quilt Block Project hits a specific niche market that we hope will generate new interest in a unique artform that Emporia once dominated through talented artisans.
Do you know any quilters in your life? CLICK HERE for the locations of some of the local quilt blocks, read through the history of local artisans, and encourage others to do the same.