Back to School – Support Local Educators & Businesses

by Jessica Buchholz, Events Coordinator | August 10, 2022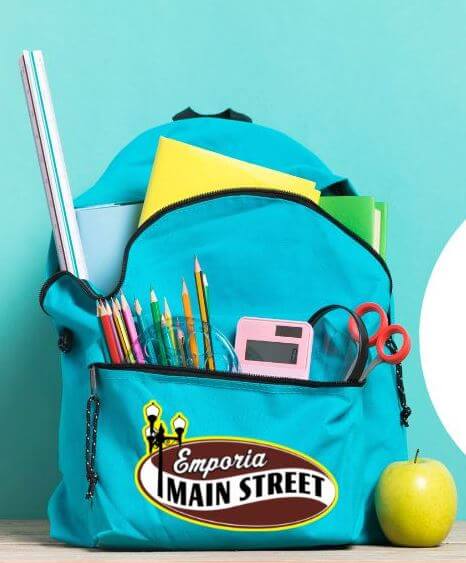 August is here and that means school is right around the corner. Although we have several large events that pull people into the area during summer months, I think we can all agree that the environment changes once local school districts, Emporia State University, and Flint Hills Technical College are back in session. For the past couple of years the COVID pandemic and its effect on consumer trends has required adjustments in business strategies and event planning. COVID hasn't left us, but we are seeing less consumer deterrence as people adjust to the environment. There are some things that businesses can do right now to improve the impact of back to school consumers:
Clearly communicate what your business is about.- Every year we run into students that don't "discover" a business until they hit their senior year. Generally those folks are talking about businesses that don't participate in outside events or communicate through sources that student absorb. Businesses can't assume that people new to the area know about the products and services they sell. You have to clearly talk about what you do, and why you do it.
Distant travel picked up during summer months, and now it is time to attract day trippers.- After two years of delayed travel, a LOT of people decided to take off for more extensive summer vacations this year. Now that people are out and about again, it's important to attract people to your business from both inside the community and from outside the market trade area. Using Destination Business techniques, you can draw more traffic to your business. For back to school, this means encouraging parents to come to town, or enticing alumni to visit your business when they are back for the college sporting event.
Consumers may be employees.- The staffing shortage still exists for many businesses. Be on the lookout for customers that share a passion for what you do. Ask them if they have ever considered working for your business. Create your own pipeline of caring employees by noticing new customers and having more detailed conversations than "can I help you find anything?".
Get involved.- You can't meet new customers doing the same things you've always done. The last two years have made people less social and less likely to explore. Inviting new people to your business requires you to get outside your four walls and invite people into your place of business. Participating in the Welcome Back Block Party is a good start for businesses looking to attract new customers in the college realm, and supporting activities like the Mix and Mingle or encouraging people to attend the Great American Market (which your business can participate in) are all examples of involvement that help your business grow.
Emphasize customer service training for your staff, and prioritize the consumer.- Back to school shoppers are often on a mission. Good customer service can help consumers fulfill their needs AND provide them with a reason to keep coming back. If you sell shoes and assorted accessories, your staff shouldn't just talk about new shoes for back to school… Socks, backpacks, mentioning athletic shoes for sports seasons, highlighting nicer shoes for future school programs, talking about other local businesses that can help people complete their list are all parts of good customer service. Besides holiday shopping, there aren't too many times of year where you have a good idea about what your customers are after as soon as they hit the door. Train your staff to communicate with the back to school crowd.
Educate your customers about more than just your business.- Talk to your customers about how your business helps. My child's education is important to me, and Flint Hills Music talked about how learning an instrument can help with other types of learning (so we bought one and purchase lessons). Trox will talk about their artists and add a human story to the products available. Each business has the opportunity to talk about more than just the sale, and educating people that are new to the community helps build immediate loyalty and repeat customer traffic.
Find your unique position.- Good businesses have simple stories that consumers can easily remember and care about. When introducing yourself to students or attracting locals to back to school shopping locations, you need to be able to communicate with phrases like "We are the only business in the area that has ____", "We carry the best selection of ____ in the area", "We've helped more customers with (insert specific issue) than any business in the region", or some other unique identifying characteristic that people can relate to. Notice I didn't include a "we are cheapest" statement. When your staff is communicating with a new crowd, it is important for them to understand why your business is special. If you struggle with identifying a unique position, now is the time to determine what makes your business special.
One more enticement for "Back to School" shopping: Emporia Main Street is rewarding shoppers for supporting local Emporia Main Street member businesses AND supporting teachers at the same time. Check out the new Shop Local initiative below and make sure your are reaching out to your potential back to school shoppers to educate them about how shopping Main Street members can help support our communities and teachers throughout Lyon County! Shop Emporia Main Street member businesses, email us an image of your receipt with the name of the teacher in any school in Lyon County that you would like to support, and watch for the drawing on August 22nd!